Tuesday, 20 October 2020
Wednesday, 21 October 2020
อัตราแลกเปลี่ยนเงินตราต่างประเทศ
Underdog pound sterling
After the global financial crisis of 2008-2009 most of currency pairs found strength to rebound to the pre-crisis levels. The EUR/USD pair grew more than 70%, while some pairs like AUD/USD even breached the pre-crisis levels. However, the British pound sterling is somewhat an outsider among the forex assets.
Starting from early 2009 to late 2013 the pair remains flat in a symmetrical triangle. In December 2013, GBP/USD tried to break out upper line of the pattern; however, bears beat back the bulls' attack and now the pair is in downtrend again having no momentum to reach the level of 1.8500 expected by traders since 2009.
The reason standing behind such behaviour of the pair is the monetary policy of the Bank of England. The central bank's interest rates are still at all-time low, its quantitative easing (QE) program works in full and its tapering does not seem to be in sight. Until the BoE takes measures on improvement of these aspects on the basis of inflation, employment, and other indicators, the British pound will remain an underdog currency with no chance to rise above the 1.8 level on the horizon.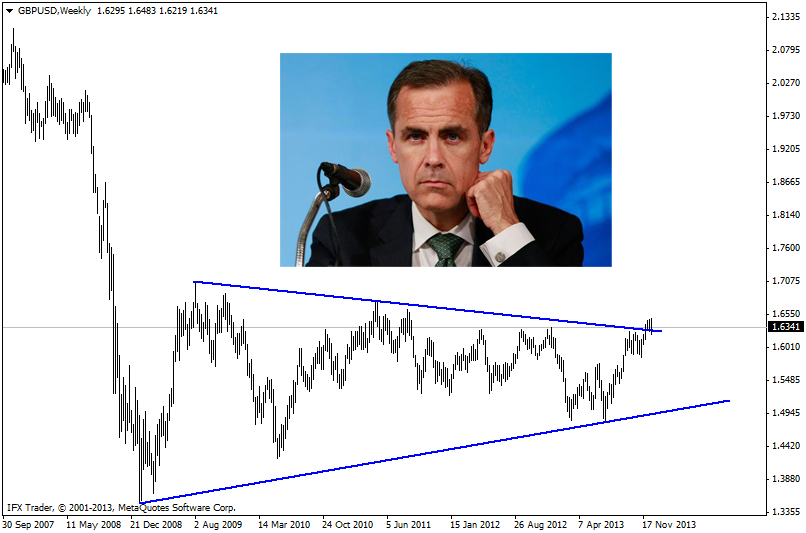 การวิเคราะห์
ข้อมูลForex
ภายในตลาด
เครื่องมือ
ผ่อนคลาย
บทความ Forex