| | |
| --- | --- |
| | Fed's Quarles Suggests U.S. Regulators could Lower Foreign Bank's Capital... |
| | |
| --- | --- |
| | Benchmark U.S. Yield Extends Rally to Almost Seven-Year High |
Japan's Core Machinery Slides in March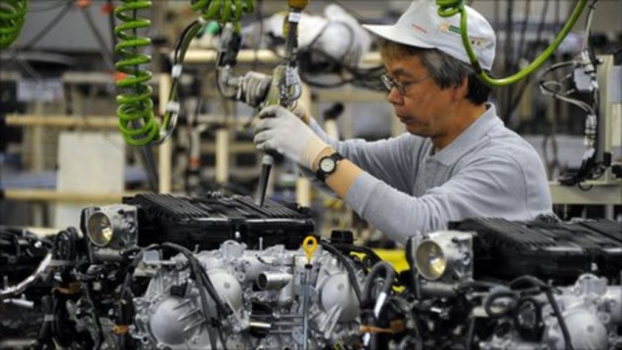 Japan's core machinery orders declined in March, falling for the first time in three months, but manufacturers see an increase for April to June, indicating capital expenditure could retain its momentum despite a report that the economy contracted in the first quarter.
According to data from the Cabinet Office, core machinery orders fell 3.9 percent in March on a monthly basis, against a 3 percent decline projected by economists.
Orders from manufacturers declined 17.5 percent in March, falling for the first time in three months, the data showed. Service-sector orders rose 2.2 percent, rising for a third consecutive month.
Compared with the same period a year earlier, core orders, which does not include orders for ships and from electric power utilities, fell 2.4 percent in March.
Overseas sales of machinery, not included in core orders, declined 7.2 percent in March, falling for two months in a row.
The machinery orders data came after a gross domestic product report published on Wednesday showing Japan's economy shrank at an annualized rate of 0.6 percent in January-March, snapping an eight-quarter expansion streak and indicating growth may have already reached its peak level.
The GDP also showed capital expenditure fell 0.1 percent in January to March, declining for the first time in six quarters.
Manufacturers surveyed by the Cabinet Office forecast core orders would climb by 7.1 percent in April-June, after rising 3.3 percent in the prior quarter.
All Prime news