| | |
| --- | --- |
| | China Makes Biggest Treasury Purchase in Six Months in February |
| | |
| --- | --- |
| | Wall Street Gains as Syria Fears Ease |
Fed Official Sees Strong U.S. Economic Growth this Year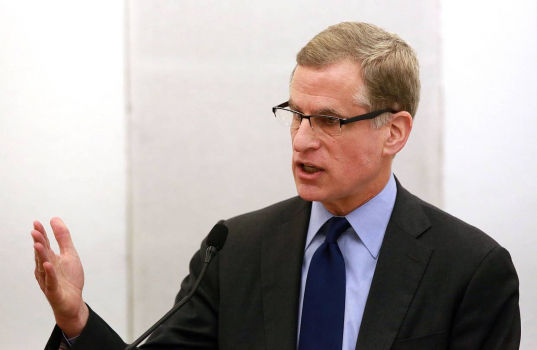 Dallas Federal Reserve Bank President Robert Kaplan projected declining jobless rate, increasing wages and strong economic growth this year and next but cautioned that without structural reforms, long-term growth will be affected.
Policies that boost immigration, enabling the country to benefit from globalization and trade, lower government debt growth and an increase in educational attainment are some of the changes America needs, according to Kaplan in an essay he released before a speech in Miami.
Kaplan wrote that due to near-term outlook for GDP growth being positive, it may trick observers into believing that the are on their way to sustained improvement in the economic performance of the U.S. economy.
However, he said that growth will slide below two percent after next year as the impacts of the recent tax and budget stimulus wear off and the Fed withdraws monetary policy accommodation.
He said that unless actions are taken to counter the underlying headwinds, sluggish rates of GDP growth in the medium and longer term will likely be observed.
The Fed official's expectation that solid economic growth this 2018 and next will open the door in 2020 and beyond to slower expansion is widely shared among central bank officials.
The Trump administration has imposed new tariffs on aluminum and has vowed trade penalties on a wide range of imports in a move to pressure China to cut back its trade surplus with the U.S. Trump has also implemented tighter immigration rules and said he wants to reduce the number of workers coming from overseas.
Kaplan argued strongly for trade and cautioned that with U.S.-born Americans having a lower birth rate, the economy's labor force will contract without immigrants and their next generations, which are needed to supplement labor force growth in the country.
All Prime news