| | |
| --- | --- |
| | Treasury Yields Fall as Geopolitical Concerns Rise |
| | |
| --- | --- |
| | Eurozone Industrial Production Growth Surges in August |
U.S. Stocks Retreat from Record Highs as Financials, AT&T Slump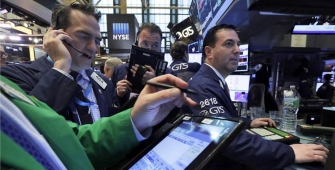 Wall Street pulled away from the recently-hit record highs as AT&T shares decline on its profit warning. Banks also weighed on U.S. stock indexes, as lenders fell after financial results from JPMorgan and Citigroup.
The Dow Jones Industrial Average slid 31.88 pts, down 0.14 percent to close at 22,841.01. The S&P 5000 Index edged down by 0.17 percent or 4.31 pts, to settle at 2.550.93. The Nasdaq Composite followed suit of its peers, falling 12.04 pts or 0.18 percent to close at 6,591.51. The benchmark U.S. stock indexes reached record closing highs in the prior session.
JPMorgan Chase & Co and Citigroup stated they had earmarked more funds for credit card lending losses in the Q3, raising worries regarding consumer credit, despite the lenders posting results that beat estimates. JPMorgan and Citigroup declined 0.9 percent and 3.4 percent respectively, weighing down on the S&P 500 and causing the S&P financials index to close down by 0.7 percent.
Meanwhile, AT&T was the biggest decliner in the S&P 500 stocks, falling 6.1 percent after the DirecTV owner said it lost around 90, 000 U.S. video subscribers in the third quarter due to increasing competition and the repercussions of the recent hurricanes.
All Prime news