| | |
| --- | --- |
| | Selling Pressure in Bond Market Rises as Geopolitical Worries Ease |
| | |
| --- | --- |
| | Apple Shares Turn Negative on Delayed iPhone X Launch |
JPMorgan CEO Calls Bitcoin a 'Fraud'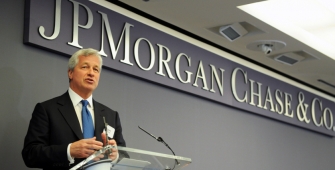 Jamie Dimon, the boss of JPMorgan Chase & Co said that Bitcoin is a 'fraud' and will crash during his speech at an event in New York on Tuesday.
The chief executive of the U.S. bank said that the currency was not feasible, stating that a business where people can conjure currency and think that buying it are intelligent is not possible.
He also warned that if any JPMorgan traders were trading the digital currency, he would instantly fire them. The trading of the cryptocurrency was illegal and 'stupid', which are both dangerous reasons, he said.
The comment of the financial executive comes as bitcoin, a virtual currency that does not have support from the government, has increased in value by more than four times since December to over $4,100.
Lenders and other financial institutions have been worried over Bitcoin's history of being associated with online crime and money laundering. While the bitcoin in circulation is meant to be limited to only 21 million, there are clones of the digital currency currently in the system, making the market for it more volatile. Dimon compared the phenomenon to the 'Tulip Mania', a well-known market bubble from the 1600s.
All Prime news