| | |
| --- | --- |
| | China Fiscal Revenue, Spending Growth Softens in August |
| | |
| --- | --- |
| | Bitcoin Prices Slide on Reports of China Shuttering Local Exchanges |
Toshiba Poised to Chose Western Digital-led Group for Chip Business: Report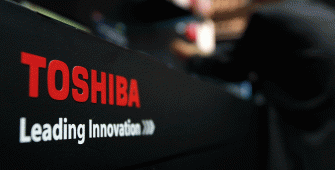 Toshiba Corp. is set to announce a group led by Western Digital Corp. as the winner of a bidding war for its prized memory chip unit, which is to be sold for about 2 trillion yen, according to a report by Nikkan Kogyo business daily.
The report, which did not cite sources, also said that the embattled Japanese conglomerate will make the official decision with the signing of a deal to come on September 20 following a board meeting.
According to Reuters' sources, Toshiba's board of directors are slated to meet on Wednesday to deliberate offers from three interested parties. One person knowledgeable of the proceedings said discussions between Toshiba and Western Digital are continuing.
A spokesperson for Toshiba dismissed the report, stating that no decision has been made regarding the sale of Toshiba Memory, and that the firm is not commenting on details regarding of the bidding process. Toshiba is also mulling a bid by Bain Capital and SK Hynix aside from the Western Digital-backed consortium's offer.
Toshiba is rushing to sell the business in order to cover billions of writeoff at its U.S. nuclear business, Westinghouse.
All Prime news