| | |
| --- | --- |
| | Gold Prices Higher for 4th Consecutive Session on North Korea Tensions |
| | |
| --- | --- |
| | Wall Street Tumbles Down on US-North Korea Tensions |
Dollar Notched 8-Week Low Against Yen on North Korea Tensions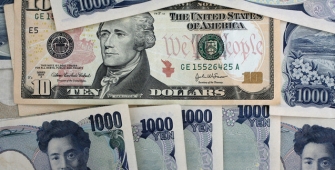 The dollar touched an eight-week low versus the yen on Friday as heightened tensions between the United States and North Korea fueled more investor flight to safety.
The greenback dropped to as low as 109.11 yen in early Asian trade on Friday, its lowest level since June 14, when the dollar was down to as low as 108.81 yen. Below such level lies another key support level for the greenback on technical charts at 108.13 yen, a trough the U.S. currency hit in mid-April.
The yen is seen as a safe haven because Japan is the world's largest creditor country and investors there have tended to repatriate funds in times of crisis.
The Japanese yen and the Swiss franc have firmed against the dollar this week, after U.S. President Donald Trump cautioned North Korea that it will face "fire and fury" once it threatens the United States.
The euro eased 0.1 percent to $1.1766, staying below a high of nearly $1.1910 touched last week, the common currency's strongest level in 2-½ years.
Investors will pay attention to U.S. July consumer price data for for clues on the Federal Reserve's policy outlook as well as near-term movements in the greenback.
All Prime news