Carta forex dan sebut harga
Thursday, 26 March 2020
Friday, 27 March 2020
Saturday, 28 March 2020
Russian Ruble Symbol
It is known that the Russian Ruble does not enjoy great popularity among traders. This comes from the fact that the Russian local currency floats half-time, while the other half-time the Ruble's rate is influenced by Russia's Central Bank, making the tangible effort to hold the rate within a certain corridor. Nevertheless, lots of brokers offer the Ruble as a trading instrument. Therefore, such currency pairs as USD/RUR or EUR/RUR can be used in trading in the same way as for example, EUR/USD or USD/CAD.
Futures for the Russian Ruble are traded on Chicago Mercantile Exchange (CME) and Global Electronic Exchange (GLOBEX). It is the most popular tool to hedge the Russian companies; using it, they can hedge their funds against fluctuations of the American dollar rate.
Interestingly, in October 2013, Russia's Central Bank launched voting on the Ruble symbol on its website where any visitor can leave one's vote. This campaign aims to select the best looking and suitable Ruble symbol that is supposed to be used later, particularly on coins and banknotes of the Russian currency. The campaign initiated by Russia's Central Bank obviously hints at the outlook that the Bank's influence is going to shrink. Thus, the Ruble is to be a hard currency in the short run. As a result, it will raise its attractiveness as a financial asset for individual traders on the forex market.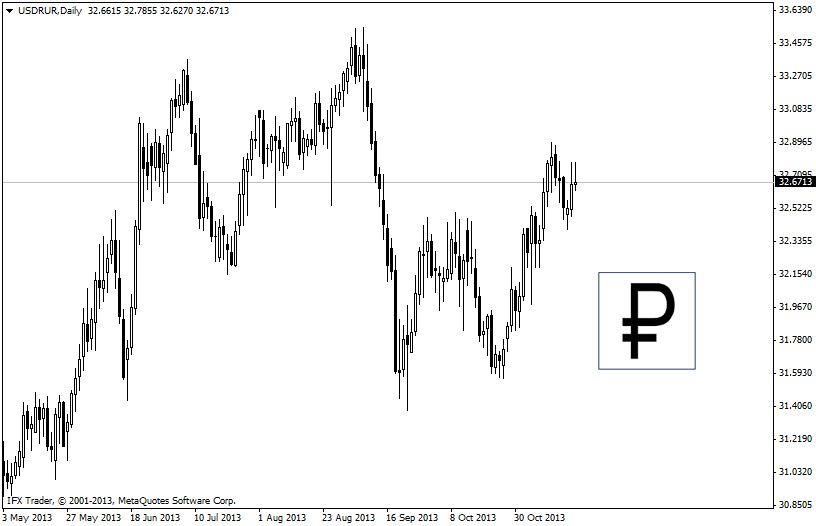 Analisis
Maklumat Forex
Pasaran dalaman
Alat
Santai
Artikel Forex