Mt5 forex trading portal is glad to inform you that InstaForex Cinema Festival is on the way. Now InstaForex traders have a chance to pass their judgment and vote for the best video devoted to the forex trading niceties or try their hands at directing and create a unique video.
InstaForex Cinema Festival is a big event unfolding twice a year. Three winners are to get prize money. The best video will be determined through open voting at MT5 portal (forum.mt5.com). The first-rate videos fulfilling all the contest requirements will be put to the portal. The authors of multifarious videos covering different subjects and genres pursue the only goal – to illustrate forex trading in their own style.
The winning video gallery
Festival Film InstaForex, musim semi 2014
Video ini dibuat oleh Aprilicious. Ia memberikan beberapa tips dan tricks untuk menggunakan MetaTrader. Diantaranya sebagai berikut:
1. Mengubah level Fibonacci levels.
2. indikator Harga Pasar.
3. Memonitor hasil trading.
4. Bagaimana membuka kuotasi harga seperti yang dibuat oleh bank
Video ini dibuat oleh Dejant. Ia menjelaskan strategi yang bertujuan untuk mengunci profit dalam trading forex. Metode tersebut termasuk menghindari posisi pembukaan yang dapat menyebabkan kerugian setelah memperoleh profit.
Gagasan utamanya adalah untk mengatur stop loss di puncak top posisi buy atau di bawah posisi sell untuk menjamin akan memperoleh keuntungan dalam tiap trading.
Video ini dibuat oleh Muhammad Alfan Alfadilla. Ia hidup di desa Jegu. Inilah mengapa ia memilih Kaptenjegu sebagai nickname dalam forum.
Ia memberitahu alasan mengapa ia memilih untuk memulai trading di pasar forex. Alasannya cukup lucu, karena tadinya ia mencari di dengan menggunakan kata kunci "bisnis online". Hasilnya, ia menemukan forum Indo MT5 forex. Ia tidak pernah menyesali hal tersebut walaupun ini bukan apa yang ia cari di awal. Jadi, ia menceritakan rutinitas hariannya sebagai trader.
Festival Film InstaForex, musim gugur 2013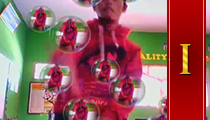 Dalam video ini, seorang lelaki bernama Angga Mauludin Rafah yang bekerja sebagai guru di Sekolah Menengah Atas di Indonesia sangat menikmati trading dengan InstaForex, InstaForex merupakan broker forex favoritnya. Guru muda ini pernah bermimpi ingin agar lebih banyak anak-anak muda Indonesia yang mampu menghasilkan uang sendiri. Oleh sebab itu, ia memutuskan untuk mengajarkan trading forex kepada siswanya. Jadi, ia memperkenalkanIndo forum forex MT5. Dalam videonya, ia mengevaluasi pengetahuan para siswa mengenai trading forex. Beberapa diantara para muridnya masih belum mengetahui tentang trading forex namun salah seorang diantaranya telah memahami forex. Sehingga, mereka memilih InstaForex sebagai broker mereka. Video ini menjelaskan mengapa mereka memilih InstaForex.
Disamping itu, ia mengajarkan para siswanya prinsip-prinsip trading. Ia memberitahukan bagaimana mengatur stop loss dan take profit dan memerpkirakan trend pasar. Terlihat jelas bahwa ia pelatih forex yang baik. Ia ingin para siswanya memiliki hidup yang lebih baik.
Asep Ridwansyah, pemilik video ini tinggal di Garut, Jawa Barat, Indonesia. Ia mengenal pasar forex pada Februari 2012. Kemudian ia bergabung dengan forum forex Indo MT5 untuk mencari tahu tentang sistem trading supply dan demand yang diperkenalkan oleh Samibegood, seorang trader forex terkemuka di Indonesia.
Asep Ridwansyah yakin bahwa trading forex semakin populer di Indonesia saat ini. Forex dapat membawa kesejahteraan untuk para trader jika kita tahun bagaimana memanfaatkannya. Kemudian ia mengingatkan tentang risiko-risiko dalam trading forex dan menyarankan agar memiliki manejemen risiko yang baik.
Ia berbagi pengalaman bagaimana ia membuka dan menutup trading. Selain itu, ia juga menyebutkan bahwa InstaForex adalah broker terbaik di Asia.
Seorang trader dengan nickname di forum ichan_siyem, membuat video dimana ia menunjukan keluarganya juga memperkenalkan metode tradingnya.
Video ini terdiri dari tiga bagian. Dimulai dengan tampilan keluarga bahagia dimana ia memperkenalkan istri dan anak perempuannya. Disamping itu, ia juga merekam bagaimana ia menghabiskan waktu dengan anak perempuannya. Dibagian tengah, anak perempuannya belajar berhitung, ia baru berusia tiga tahun.
Di bagian ketiga ia menampilkan metode trading yang ia gunakan yang ia sebut sebagai simple hedging martingale. Ia bisa menjadi trader forex yang sukses namun tetap perhatian dan mencintai keluarga.