| | |
| --- | --- |
| | Turkish Central Bank to Cut Corporate Demand for Forex Worth $3.5 - 4 Bln by... |
| | |
| --- | --- |
| | Russian Defence Ministry says Long-Range Bombers Strike Islamic State Targets... |
U.s. Housing Starts Beat Expectations at the Start of the Year, Momentum Remains Strong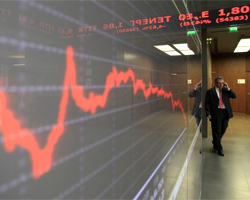 The pace of homebuilding in the United States moderated slightly in January, falling by 33k units to 1,246k (annualized). Despite the fall January's pace still exceeding market expectations for a 1,226k print. The three-month moving average stood at 1.225mn units on a seasonally adjusted basis.
The monthly decline was largely attributable to the volatile multifamily segment. This category fell 10.2% on the month, to 423k from an upwardly revised 471k. Single-family starts edged up to 823k (+1.9%m/m).
Building permits also beat market expectations for a 1,230k print, rising by 57k to 1,285k. The improvement was concentrated in the multifamily segment (+79k), while permitting activity for single-family homes fell 22k on the month – albeit coming off five consecutive gains.
The recent rise in mortgage rates has likely fueled some uptick in sales activity but does pose some downside risk for homebuilding. Still, solid fundamentals, including continued employment, wage gains, and rising household wealth – which are all encouraging more household formation – will help keep housing demand on a moderately positive course. This sentiment  is also shared by builders, with the NAHB housing market index holding near its highest levels in more than a decade.
"Today's report reinforces our view of a modest, but steady improvement in the housing market in 2017. Notwithstanding this view, we remain watchful for signs that higher mortgage rates are having a negative effect on activity. So far, there is little evidence to suggest this is the case at the turn of the year." said Barclays Capital in a report.
Recommend: Forex News

▶

COLOMBIA: Colcap Rises 0.44% Driven By Bancolombia's ADRs


2017-08-19 13:20:00 UTC+00 1 day, 4 hours, 15 min. ago

Views today:

1170

▶

ARGENTINA: Merval Sets New Record


2017-08-19 13:24:00 UTC+00 1 day, 4 hours, 11 min. ago

Views today:

1136

▶

BRAZIL: Ibovespa Hits The Highest Level In Three Months Boosted...


2017-08-19 13:27:00 UTC+00 1 day, 4 hours, 8 min. ago

Views today:

1191

▶

ISA: Company Included In FTSE4Good Index For Sustainability...


2017-08-19 13:12:00 UTC+00 1 day, 4 hours, 23 min. ago

Views today:

847

▶

COLOMBIA: Inflation To Close 2017 Above Target - Central Bank


2017-08-19 13:08:00 UTC+00 1 day, 4 hours, 27 min. ago

Views today:

873
Support and resistance levels
EUR/USD
GBP/USD
USD/JPY
GBP/JPY
EUR/CHF
AUD/USD