Forex charts and quotes
| Currency pair | Bid | Ask |
| --- | --- | --- |
| EURUSD | 1.1631 | 1.1634 |
| GBPUSD | 1.2965 | 1.2968 |
| USDJPY | 111.88 | 111.91 |
| USDCHF | 0.9510 | 0.9513 |
| USDCAD | 1.2587 | 1.2590 |
| EURJPY | 130.13 | 130.16 |
| EURCHF | 1.1062 | 1.1065 |
| GBPJPY | 145.05 | 145.12 |
| GBPCHF | 1.2329 | 1.2336 |
| GOLD | 1245.21 | 1245.81 |
| SILVER | 16.315 | 16.355 |
| BTCUSD | 2572.40 | 2592.40 |
Friday, 21 July 2017
Monday, 24 July 2017
| | |
| --- | --- |
| | EUR/USD analysis for March 20, 2017 |
| | |
| --- | --- |
| | Technical analysis of gold for March 20, 2017 |
Forex Analysis: 20 Mar 2017, 07:20 UTC+00
Technical analysis of USDX for March 20, 2017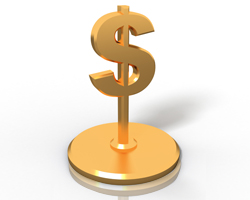 The Dollar index remains in a bearish short-term trend after the rejection last week from 102.30 and the break below 101. The Dollar index is most probably heading lower towards 99.50 where the neckline support is found.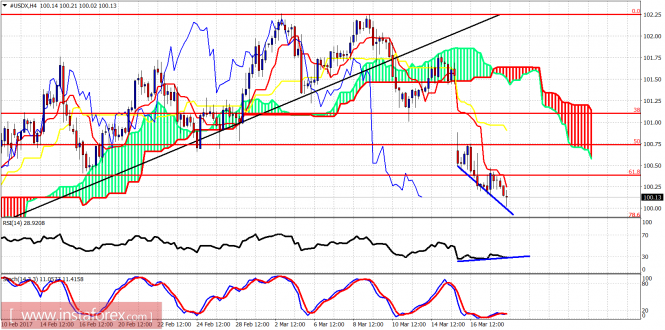 Show full picture
Blue lines - divergence trend lines
The Dollar index is showing bullish reversal signals on the 4-hour chart. Price could bounce today higher but this will most probably be a selling opportunity. The bounce could reach the 101 level.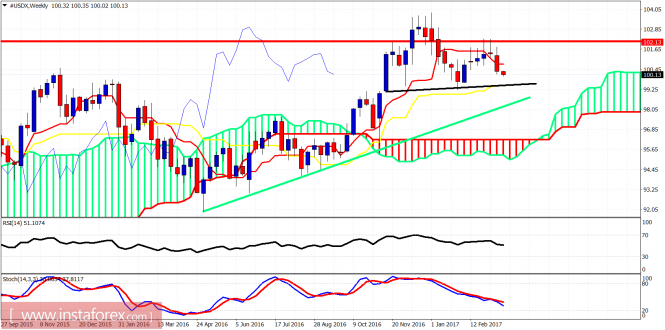 Show full picture
Red line - resistance
Black line - neckline
Green line - long-term support
Short-term support is at 99.88 and resistance at 101. Longer-term support is at 99.25 and resistance at 102.30. We could still be forming the right hand shoulder as per the bearish scenario of a Head and Shoulder pattern. If price breaks below 99, we should expect the Dollar index to reach 96.
Published:
20 Mar 2017, 07:20 UTC+00
Recommend: Forex Analytics

▶

Daily analysis of USD/JPY for July 20, 2017


20 Jul 2017, 20:02 UTC+00

Views today

2785

▶

Daily analysis of GBP/JPY for July 20, 2017


20 Jul 2017, 20:04 UTC+00

Views today

2704

▶

Technical analysis of USD/CHF for July 20, 2017


20 Jul 2017, 19:48 UTC+00

Views today

2369

▶

Technical analysis of gold for July 20, 2017


20 Jul 2017, 10:44 UTC+00

Views today

2303

▶

Daily analysis of major pairs for July 20, 2017


20 Jul 2017, 09:53 UTC+00

Views today

2236
Analytics
Forex Info
Market Inside
Tools
Relax
Forex articles