Forex charts and quotes
| Currency pair | Bid | Ask |
| --- | --- | --- |
| EURUSD | 1.1629 | 1.1632 |
| GBPUSD | 1.2963 | 1.2966 |
| USDJPY | 111.93 | 111.96 |
| USDCHF | 0.9511 | 0.9514 |
| USDCAD | 1.2595 | 1.2598 |
| EURJPY | 130.17 | 130.20 |
| EURCHF | 1.1062 | 1.1065 |
| GBPJPY | 145.09 | 145.16 |
| GBPCHF | 1.2329 | 1.2336 |
| GOLD | 1244.89 | 1245.49 |
| SILVER | 16.310 | 16.350 |
| BTCUSD | 2567.10 | 2587.10 |
Friday, 21 July 2017
Monday, 24 July 2017
| | |
| --- | --- |
| | Technical analysis of NZD/USD for February 17, 2017 |
| | |
| --- | --- |
| | Technical analysis of gold for February 17, 2017 |
Forex Analysis: 17 Feb 2017, 06:49 UTC+00
Technical analysis of USDX for February 17, 2017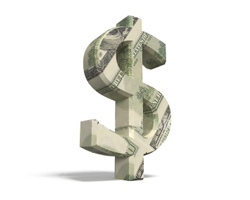 The Dollar index has reached important short-term support. Is the entire pullback over or is it just the first part? As long as the price is trading above 99.20 we remain bullish for the Dollar, as the low could very well be the end of wave 4, while the current bounce could be the start of the new leg up to new highs.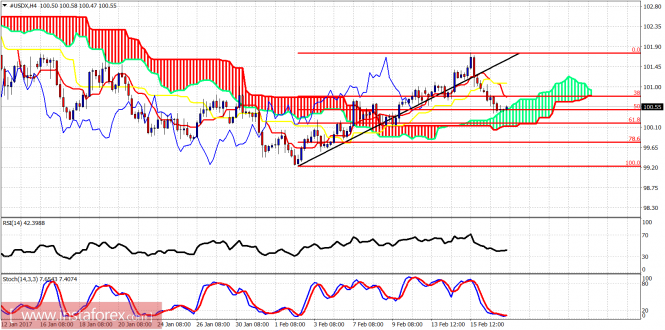 Show full picture
The Dollar index has reached the Ichimoku cloud support and the 50% retracement of the recent rise. This could be the entire pullback and we could see the start of a new uptrend from the current levels. Important short-term support is at the 100.20 level and the 61.8% Fibo.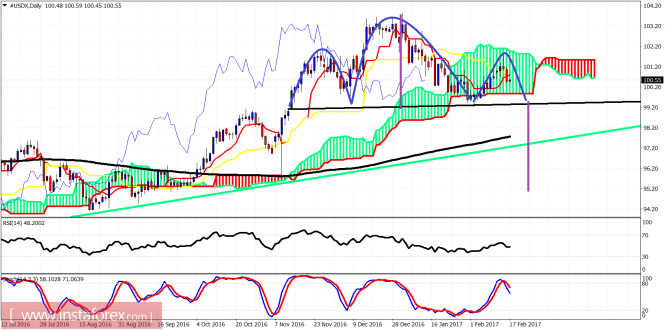 Show full picture
The Dollar index could also be forming a head and shoulders pattern. The neckline support is at 99-99.20 and if we break below that level we should expect the Dollar index to fall towards 95. Daily resistance is at 101.70. A break above that level will confirm the initial bullish scenario that wave 4 was complete at the recent low at 99.20.
Published:
17 Feb 2017, 06:49 UTC+00
Recommend: Forex Analytics

▶

Daily analysis of USD/JPY for July 20, 2017


20 Jul 2017, 20:02 UTC+00

Views today

2786

▶

Daily analysis of GBP/JPY for July 20, 2017


20 Jul 2017, 20:04 UTC+00

Views today

2705

▶

Technical analysis of USD/CHF for July 20, 2017


20 Jul 2017, 19:48 UTC+00

Views today

2369

▶

Technical analysis of gold for July 20, 2017


20 Jul 2017, 10:44 UTC+00

Views today

2303

▶

Daily analysis of major pairs for July 20, 2017


20 Jul 2017, 09:53 UTC+00

Views today

2236
Analytics
Forex Info
Market Inside
Tools
Relax
Forex articles