Forex charts and quotes
| Currency pair | Bid | Ask |
| --- | --- | --- |
| EURUSD | 1.1702 | 1.1705 |
| GBPUSD | 1.2872 | 1.2875 |
| USDJPY | 110.79 | 110.82 |
| USDCHF | 0.9754 | 0.9757 |
| USDCAD | 1.2701 | 1.2704 |
| EURJPY | 129.66 | 129.69 |
| EURCHF | 1.1415 | 1.1418 |
| GBPJPY | 142.60 | 142.67 |
| GBPCHF | 1.2554 | 1.2561 |
| GOLD | 1272.14 | 1272.74 |
| SILVER | 16.855 | 16.895 |
| BTCUSD | 4108.50 | 4128.50 |
Wednesday, 16 August 2017
Thursday, 17 August 2017
| | |
| --- | --- |
| | USD/CAD intraday technical levels and trading recommendations for January 11,... |
| | |
| --- | --- |
| | Elliott wave analysis of EUR/NZD for January 11, 2017 |
Forex Analysis: 11 Jan 2017, 05:47 UTC+00
Intraday technical levels and trading recommendations for GBP/USD for January 11, 2017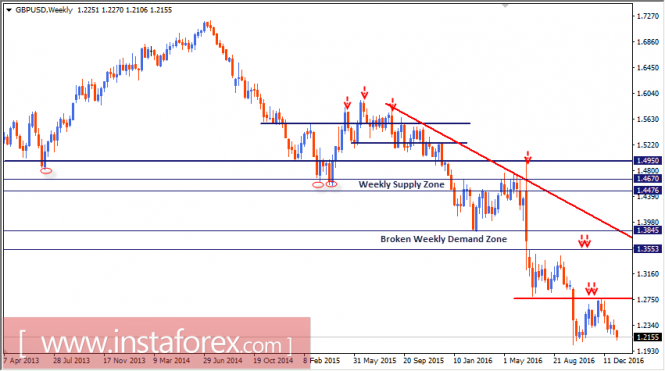 Show full picture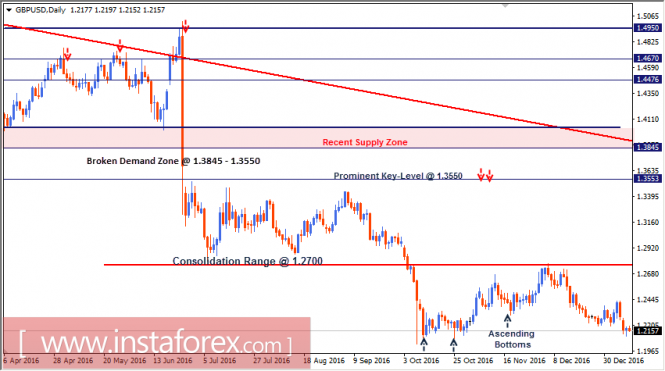 Show full picture
The price zone between 1.3845 and 1.3550 (historical bottoms set in January 2009) was considered a significant demand zone to be watched for bullish recovery.
However, by the end of June a significant bearish break below 1.3550 was expressed as seen on the depicted charts (fundamental reasons). Bearish persistence below the demand level at 1.3550 enhanced the bearish scenario toward the price levels around 1.2700 (Bearish projection target).
Since then, the GBP/USD pair has been trapped inside the depicted consolidation range above 1.2700 until a bearish breakout took place on October 6.
Daily persistence below 1.2700 confirmed the bearish Flag pattern. That is why, a bearish projection target would be located around 1.2020.
Recently, bullish recovery was manifested around 1.2080. That is why, a bullish pullback was executed toward 1.2700-1.2750.
Risky traders considered the recent bullish pullback toward the price zone of 1.2700-1.2750 for a valid SELL entry. S/L should be lowered to 1.2500 to secure some profits. T/P level should be located at 1.2100.
This SELL entry should be monitored cautiously as the ascending bottoms around the price levels of 1.2120 and 1.2320 may generate significant bullish pressure thus threatening the suggested trade.
On the other hand, price action should be watched around the current price levels (1.2150-1.2100) where previous bottoms were established. Hence, bullish rejection is anticipated around the current price levels.
Published:
11 Jan 2017, 05:47 UTC+00
Analytics
Forex Info
Market Inside
Tools
Relax
Forex articles