Minister of Economic Development of the Russian Federation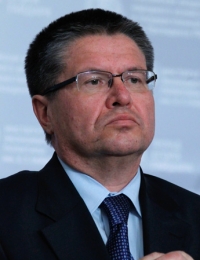 Alexei Ulyukaev
Date of birth: 23.03.1956
Country: Russia
Family status: Married
Net worth:
Primary activity: Politics
Interests: Sport
Alexey Ulyukaev is a well-known politician in Russia. He assumed many senior positions and won the respect of his colleagues as well as the international community.

Alexey was born March 23, 1956 in Moscow, Russia. After graduation from a high school he was accepted to the Moscow State University, Economics Department. In 1979 he graduated with the Master's degree and decided to continue postgraduate education. In 1963 he gained his Doctorate in Economics.
Before graduation from the university, Alexey already considered to devote his future career to science. Being a student he worked as a research assistant at the Physics Department of the Moscow Institute of Land Management Engineers. In 1982 he took over an assistant position at the Moscow Institute of Civil Engineering. His outstanding abilities allowed him to progress up the career ladder and after a few years he assumed Associate Professor's position.
He didn't plan to stop his personal development and enrolled at the Pierre-Mendes France University. Alexey graduated from the University with PhD in Economics a couple of years later.
In the middle of 1980s a landmark event happened. Alexey started to attend economic workshops by Moscow-St. Petersburg school "Zmeinaya Gorka" where he got acquainted with Anatoliy Chubays and Egor Gaydar. Later Alexey continued his work with Gaydar in economic field. Alexey Ulyukaev won respect of these two recognized economists and it helped his future career. In 1988 Gaydar invited Alexey to work at the Kommunist magazine at the department of political economy and economical politics.He started as a consultant but then was promoted to the editor.
In 1991 Alexey assumed a position of economic adviser to the Government of the Russian Federation; Alexey also worked as a political columnist in Moscow News newspaper at the same time.
Soviet Union disintegration played an important role in his career. Egor Gaydar made him a member of his team. Since 1991 till 1992 Alexey was an economic adviser to the Government of the Russian Federation. He also was a personal assistant of Egor Gaydar. In 1992 he advanced to the Head of Group of Advisers of the Prime Minister of the Russian Federation. After Gaydar was elected as a first deputy Prime Minister, Ulyukaev became his assistant. However, when Gaydar vacated office, Alexey had no choice but accept Gaydar's offer. Gaydar took over a position at the Institute of Economic Issues during the transition period and invited Alexey to become a deputy director.
In 1996 his personal political career began. He worked as a deputy of the Moscow City Duma. He also supervised projects involved in the investment policy of Moscow. On expiry of his deputy term Alexey decided to devote himself to the Institute of Economic Issues during the Transition Period where he had been working till 2008 as a leading research associate and a member of the Board of Academics. He was invited to work at the Economic Reforms Committee of the Russian Federation. Alexey worked at the Centre of Strategic Developments where he developed the reform devoted to the intergovernmental fiscal relations. At that moment German Gref, who chairs at the Sberbank of Russia nowadays, was the Head of this Institution.
Alexey was a member of the Democratic Choice of Russia Party; he was a head of its Moscow division till 1997. He ran for State Duma, this time as a member of Union of Right Forces Party. It was a bad shot as he was sidestepped by his competitor Sergey Shokhin.
With the help of Chubays he assumed office as a First Deputy of the Minister of Finance of the Russian Federation. At that moment Alexey Kudrin was the Minister of Finance. Ulyukaev's duties included control over funding of the state military as well as monetary policy. His achievements were noticed and he became a member of the National Banking Board as well as a member of the Federal Antiterrorist Committee.
In 2002 Alexey took over the position as a member of the board of VTB Bank. In five years his parents gained possession of VTB shares.
In 2004 Alexey received one more key assignment. He became the first deputy of the Central Bank's Governor and in one month he was a member of the board. He also was in the Monetary Policy Committee at the Central Bank. He gave multiple interviews about economic situation in the country and in the world as well as commented on other important financial issues. He was the first to suggest making ruble the convertible currency. In 2006 he assured public that there would be no devaluation of the ruble in the near future. In 2010 he forecasted that Russian economy would reach pre-crisis level.
In 2008 Alexey became the Board Chairman of the Moscow Interbank Currency Exchange. He had been chaired at the Moscow Interbank Currency Exchange for three years.
Simultaneously with his political career Ulyukaev has been working on his science career.In 2000 he received an offer to become a Chairman of Finance and Credit department at his alma mater University.
Moreover, Alexey established several magazines and newspapers devoted to Finance and Economics.
In 2006 in appreciation of his achievements Alexey was granted the Medal of Honor. In a year from this important event he was listed among the 100 best Russian politicians.
Alexey is married and has three kids – two sons and a daughter. He mentioned many times in the interviews that he is fond of hiking, paddling and swimming. Due to lack of time he enjoys his hobbies rather rare. Alexey Ulyukaev is also fluent in English and French.
However, Alexey hasn't got on without a scandal. In 2006 he caused a flight delay Moscow-Sochi. Alexey was upset that his wife didn't get a business class seat. The conflict was handled but Alexey and his wife ended up flying on the private airplane of German Gref.