German Federal Chancellor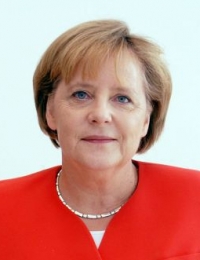 Angela Merkel
Date of birth: 17.07.1954
Country: Germany
Family status: Married
Net worth:
Primary activity: Politics
Interests: Gardening, cooking
Angela Merkel is a world-famous female political leader from Germany who has pursued a glittering career and has gained considerable respect.
Angela Merkel, née Angela Dorothea Kasner, was born in Hamburg, West Germany. Her father Horst Kasner was a Lutheran pastor and her mother Herlind was a teacher. Merkel has Polish roots patrilineally. Angela's father studied theology, first in Heidelberg then in Hamburg. Because of his pastor's position, Horst Kasner and his family moved from one city to another several times. After several years of pastorship at the Evangelical Church in Berlin-Brandenburg in the village of Quitzow, Merkel's father moved to the town of Templin to develop the religious education office. The family bore two children there and after they moved to Hamburg Angela was born. At that time Horst Kasner left his pastor's ministry to head the college for pastors, thus turning into quite a high-powered person in the church. Parents have never sent Angela and her brother and sister to kindergarten as their mother could afford to stay at home caring for them and running a household.
In 1961, Merkel enrolled at the Polytechnic High School in Templin. She made great progress in her studies. Particularly, she liked Russian language and Mathematics. It was no wonder that she got top marks in the final exams in 1973. Moreover, she was a member of the pioneer organization during her school years and later she joined the Free German Youth, East Germany's communist youth organization.
Right after graduating from school, Angela went to Leipzig to fulfill her childhood dream to study physics at the Karl Marx University of Leipzig. She passed entrance exams easily and became quite an active student. She got high grades in all core subjects and won the national competition in the Russian language getting a prize trip to the Soviet Union. Angela also had an extensive political experience as a member of the Free German Youth.
She had time for private life as well. In 1974 she went to a meeting on youth exchange program with physics students from Moscow and Leningrad and met her first future husband, promising student Ulrich Merkel from Vogtland. Their wedding took place in Templin in 1977. However, after getting married young Angela did not give up studying. She graduated brilliantly from the University of Leipzig.
When it was time to think of her future career, Merkel got an invitation to work for the Central Institute for Physical Chemistry of the Academy of Sciences in Berlin. Having done some hard thinking, the couple decided that moving to Berlin was inevitable. Merkel worked there until 1990. She defended her doctorate dissertation there as well in 1982. However, she got divorced up to that moment. Ulrich and Angela split up in 1981, but their official divorce was later in 1982. Two years later at her job Angela met Joachim Sauer whom she married to in 1998.
Things at her professional path were more than good. First, she worked at the department of theoretical chemistry and after earning her doctorate in physics with a dissertation on quantum chemistry she moved to the department of analytical chemistry. Besides, Merkel kept up her political career. She was a secretary at the Free German Youth and was in charge of agitation and propaganda activities. However, Merkel did not join any party of the Democratic Bloc of the GDR and entered no opposition movement.
Following the collapse of the Berlin Wall in 1989 Merkel changed her job as the Academy of Sciences ceased to exist. She switched to politics joining to the Democratic Awakening party as a temporary administrator. Later she was invited to the position of the party chairman's assistant. After some time she became the party's press officer and designed leaflets.
In 1990 the Democratic Awakening loosed free elections to the People's Chamber. At that time there were talks about the need of Germany's reunification. Merkel took part in many events devoted to this issue. Moreover, after losing, the Democratic Awakening closely cooperated with another political force, the Christian Democratic Union. In 1990, the parties merged.
In autumn 1990, Merkel received the post of the ministerial adviser at Federal Press and Information Office. It was a stepping-stone to her career in the Bundestag. With the help of Gunther Krause she was elected to the German federal parliament. Thus, Angela Merkel became the Bundestag member from her district. Moreover, she was sixth on the list of the party's most active members.
After elections to the Bundestag, Angela received the deputy mandate from her district following an invitation to the Office of the Federal Chancellor in Bonn. She was appointed to the fourth cabinet led by Helmut Kohl as minister for women and health. After elections in 1994 she served as minister for the environment and nuclear safety.
Following the CDU's defeat in the 1998 general election, Angela started to lose popularity. But quite unexpectedly she was offered the position of secretary-general of the CDU by Wolfgang Schaeuble. In fact, it was a key post in the party. Helmut Kohl began to serve as the honorary chairman of the party.
In 2000 after the scandal associated with illegal party financing by the Christian Democratic Union, Helmut Kohl was offered to resign voluntarily, while Merkel emerged as the most powerful figure in the party. In 2002 Angela lost election to the Bundestag and agreed to head the CDU parliamentary faction. That was her starting point as an opposition rival to Gerhard Schroeder.
In 2004 Schroeder announced his resignation as the chairman of the Social Democratic Party of Germany. On November 22, 2005 Merkel assumed the office of Chancellor of Germany following a stalemate election that resulted in a grand coalition with the SPD. So she became Germany's youngest-ever chancellor, and the first woman to take the post.
Merkel carved out her political career very quickly. She has lots of supporters. However, there are opponents as well. Still, it is impossible not to note a huge number of her achievements. She was even awarded Grand Cross of the Order of Merit of the Federal Republic of Germany.
In spite of the fact that Merkel's second marriage seems to be quite happy and there is understanding between the couple, they have no children. Merkel devotes all her time to politics. However, she likes gardening and cooking in her free time.