Heiress to Wal-Mart Stores, Inc.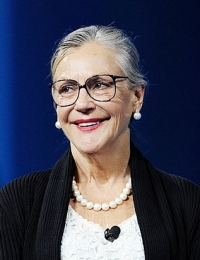 Alice Walton
Date of birth: 07.10.1949
Country: USA
Family status: divorced
Net worth: $34.4 bln
Primary activity: Wal-Mart Stores, Inc.
Interests: Collecting paintings, horse breeding, art
The daughter of Sam Walton, the world famous Wal-Mart Stores corporation founder, and an heiress to a share of huge fortune. She does not participate in her father's business, however is the 13th in the ranking of the richest people of the planet by Forbes. Her net worth is over $34 bln.
Alice Louisa Walton was born on October 7, 1949 in Arkansas, USA. She is the only daughter and the youngest child in the family. For reference, the American billionaire Sam Walton divided his business among four heirs equally. Unlike other members of the family Alice decided not to be involved in her father's business directly and entrusted the management of her share to the elder brothers, who were more experienced.
In early childhood, Alice showed much interest in arts. After school she joined the Trinity University in San Antonio. Of course, having received a degree, the rich heiress started to work within her specialty, but she was not astounded by the broker's career. In fact, she was so disappointed in it that left this sphere and began doing what she really liked.
Being an admirer of horse racing, Alice started breeding horses on her farm. Moreover, she had been active in the political life of the country for quite a long time. In 2004, Alice Walton was the major sponsor at the US Presidential elections; her donation was as high as $2.6 mln in favor of the American Conservative party. In addition to financial aid activities, Alice also took part in the advertising campaigns. So, when the American troops invaded Iraq, she supported the political position of George Bush. However, the journalists reminded her about that fact later, and bombarded her with accusations.
There have always been scandals around this rich woman. In 1989, driving her Porshe, Alice Walton hit a woman with two children in Springfield, Arkansas. The court recognized this as an accident, and Walton was fined with $925. A few years later, she was caught driving her car drunk. And traditionally, the rich heiress got away with a mere fine. She still has a passion for expensive posh autos.
For all her life, Alice Walton was fond of arts. She has spent much money on sponsoring talented artists. She has organized numerous exhibitions and galleries. Unlike all her undertakings, this activity has been the most successful. For example, in 2005 she acquired a big collection of paintings of a famous American artist Asher Brown Durand. Moreover, her private collection includes works of Edward Hopper, Winslow Homer and other famous artists.
In 2009, Alice Louise established a museum in Bentonville, where the biggest part of her art collection is displayed. Aside from paintings of well-known artists, there are also works of photographers, sculptors etc. The museum was given the name of "Crystal Bridges".
This is the most successful project of the wealthy heiress to the Walton family fortune.