Former Prime Minister of Greece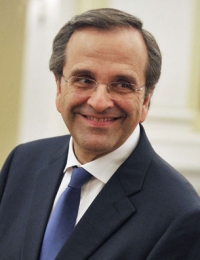 Antonis Samaras
Date of birth: 23.05.1951
Country: Greece
Family status: married
Net worth:
Primary activity:
Interests: politics
Antonis Samaras is a Greek politician who is well known all over the world. A man with a rich political history, he has held several senior political positions in the government. Samaras is a member of the European people's party.
He was born on 23 May 1951 in Athens, Greece. Determined and ambitious, he went to the United States for his higher education. Antonis graduated from Amherst College in 1974 with a degree in economics, and then from Harvard University in 1976 with an MBA. In 1977, almost after graduation, he was elected to the Greek parliament as an MP for New Democracy. Samaras served as a member of the Greek parliament for many years proven himself to be a responsible and reliable person. In 1989, he was appointed as the Minister of Finance. However, he left the post soon enough. Shortly thereafter he became the minister for Foreign Affairs. Antonis lost this position in 1992, after he instigated the "Macedonian Question" by rejecting any negotiations.
He was not crestfallen, though. In 1992, Antonis formed his party and named it Political Spring. The party participated in the 1993 general election. The majority of voters supported Samaras' party. Nevertheless, his former colleagues took it as a betrayal. Political Spring gained 4.9 per cent of the vote in the 1993 general election. They gained 8.7 per cent in the 1994 European Parliament elections, earning two seats.The party's popularity, however, started declining and in the 1996 and 1999 European Parliament Elections, it failed to clinch the required threshold of 3% to elect Members of Parliament. Political Spring did not participate in the 2000 general election.
Before 2004 general election, Antonis Samaras was back to serve terms in the European and Greek parliaments. Three years later, he resigned from the European Parliament. He was elected to the Greek Parliament for Messenia. In 2009 he was appointed as the Minister of Culture in Greece. After New Democracy lost the 2009 legislative election, Kostas Karamanlis voluntarily resigned as head of the party. Samaras did not want to miss the opportunity and immediately ran for the post. More than half of the votes were in his favor. Thus, he became the new leader of the New Democracy party.
From that moment it became clear that Antonis Samaras is a formidable and determined politician. He expressed a very negative attitude towards the IMF program of financial assistance for Greece in order to overcome the crisis. Besides, he was highly concerned about the countlesscorruption scandals in the party. He was determined to deal with this situation by any means. He fired a large number of colleagues who were suspected of illegal actions.
Legislative elections were held again in June 2012. Antonis Samaras assumed office as the Prime Minister of Greece on 20th June 2012 and served in this post until 26 January 2015
Antonis Samaras lives a happy family life. He is married and has two children. Notably, he is not the only politician in the family line. His paternal uncle, George Samaras, was a long-standing member of Parliament. The famous Greek storyteller Penelope Delta is Antonis' great-grandmother.