Member of the Executive Board of the European Central Bank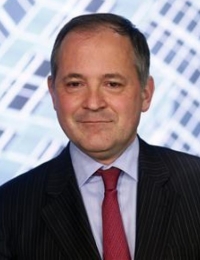 Benoit Coeure
Date of birth: 17.03.1969
Country: France
Family status: -
Net worth: -
Primary activity: politics, economics
Interests: scientific research and publications
Benoit Coeuré is a member of the Executive Board of the European Central Bank which mainly regulates the EU's monetary policy. The politician is famous for his remarks on the extremely slow pace of economic recovery and returning to pre-crisis growth rates. Coeuré is a strong supporter of negative interest rates on deposits.
The future politician was born on March 17, 1969 in a French town, Grenoble. There he spent his childhood and youth. After he finished school, Benoit attended the Lycée Stendhal. In 1985, he graduated with a Bachelor's degree.
He decided to continue his education. By 1990, Coeuré was already a graduate of École Polytechnique. Next year, he received his Bachelor's degree in Japanese from Paris Diderot University and then became a student of ENSAE ParisTech (Paris Graduate School of Economics, Statistics and Finance). A year later, he earned a Master's degree in Economic Analysis and Policy from the School for Advanced Studies in the Social Sciences (EHESS), located in Paris.
That was the time when he started out on his career in economics. He served as an economist at the Macroeconomic Policy and Growth Division of the INSEE (National Institute of Statistics and Economic Studies) for three years. There he gained the reputation of a dedicated professional. In 1995, he was invited to work as an economist at the Foreign Exchange Policy and Balance of Payments Unit of the French Treasury. He did not hesitate to accept this job offer. Benoit spent two years at this position, from 1995 to 1997. In 1997, Coeuré was promoted to an economic adviser to the Director General. At the same time, he served as Head of the Foreign Exchange Policy and Economic Policy Unit of the French Treasury.
In 2002, Coeuré left the Treasury and took the post of Deputy Chief Executive at Agence France Trésor – a French agency tasked with handling public debt and treasury management. Four years later, he became Chief Executive of Agence France Trésor. However, he did not stay there for long, as in 2007 he returned to the French Treasury as Head of the Multilateral Affairs and Development Department. In 2009, after two years of intensive and efficient work, Coeuré was appointed as Deputy Director General of the French Treasury. Since January 2012, he has been an Executive Board Member of the main EU regulator, the European Central Bank.
Benoit's hard work and professional competence have been repeatedly acknowledged and won him several prestigious awards. For example, he was nominated for the best young French economist in 2005.
Even though Benoit Coeuré devoted most of his working life to politics, he also conducted scientific research. He published numerous articles on various European and global financial issues. His books are translated into a number of languages and used as study guides by the leading European universities.