President and CEO of Fidelity Investments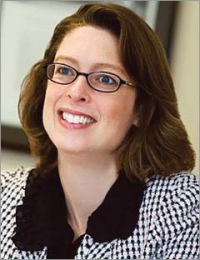 Abigail Johnson
Date of birth: 19.12.1961
Country: United States
Family status: Married
Net worth: $17.2 bn
Primary activity: Top executive
Interests:
Abigail Pierrepont Johnson is perhaps the most famous woman among the wealthiest American business ladies with distinguished careers in the finance sector. She is an heiress of a US investment corporation. She thinks that buying luxurious houses, yachts, jewelries, and other posh articles is a waste of money. Thanks to her hard-working and perseverant character, she is faithful to her family and business commitments making Fidelity Investments even more thriving.
Abigail was born on December 19, 1961 in Boston, Massachusetts. Her father called his only daughter Abby. Her father inherited the firm from Abigail's grandfather. Thus, Abigail was predestined to take over the family business. Importantly, this fact determined not only her education, but also shaped her destiny.
She graduated from Buckingham Brown and Nickolas high school. Then, she entered William Smith College which she successfully finished with a Bachelor of Arts degree in art history in 1984. However, Abigail changed her mind about a future career and decided to get a different education at Harvard Business School. She completed the prestigious college with an MBA diploma.
She did not have to look for a job. Right after graduation, she joined father's company as a financial analyst in 1988. Immediately she displayed a talent for an executive. She was moving up the career ladder. Soon she was promoted to an executive position. At last, having achieved great results and earned father's trust, she was appointed as President at Fidelity Investments. So her future was determined: she would hold the Chair at the corporation after her father decides to retire. At present she owns a 49% stake in the company.
This successful business lady will inherit the world's largest mutual fund company. Its financial state of affairs is quite sound. So Fidelity's profits surged 17% in 2010 from the previous year. Nevertheless, such a high-profile family can hardly evade scandals. Recently, the affluent family was accused of accepting a bribe in a tricky way. Abigail received costly tickets for the Olympic Games in Salt Lake City as a gift. The police questioned her for a long time. However, the financial supervision authority sorted it out and closed the investigation.
In 2014, Abigail Johnson was ranked as the 34th most powerful woman in the world according to Forbes. However, she is not going to rest on her laurels and is making determined efforts to secure prosperity of her company. She is known to be serene and sensible. With her enthusiasm and determination, she sets an example for the team consisting of over 37,000 employees. Besides, she finds it fair to pay her managers a premium for constructive ideas.
Abigail Johnson is married and has two children. The family lives in Milton, eastern Massachusetts.