Co-founder and ex-president of Inditex group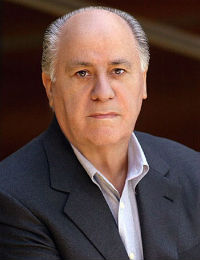 Amancio Ortega
Date of birth: 28.03.1936
Country: Spain
Family status: Married
Net worth: $64 bln
Primary activity: Retail empire Inditex
Interests: Real estate
Amancio Ortega Gaona is a standout fashion executive, founder and ex-president of Inditex fashion group as well as an owner of popular clothing retail shops such as Zara, Massimo Dutti, Bershka, Oysho, Pull and Bear, Zara Home, Stradivarius, and Uterque. He is ranked as the third richest person in the world by Forbes. The Western media call this successful businessman by different nicknames: the Spanish sphinx, man from the legend, mysterious man, uncrowned king of fashion, etc. All these nicknames are fair. Indeed, nobody has solved the success formula created by Amancio Ortega so far. All his life is cloaked in mystery. Just few things are known about his private life. He lives in a two-storied mansion, possesses an aircraft and a racetrack in La Coruña, Spain.
Amancio Ortega was born on March 28, 1936 in Leon, a small town in Spain. His family was on a tight budget. His mother was from a disadvantaged background, she worked as a maid. His father worked as a railway worker. Barely in his teens, Amancio had to start work to help the family make both ends meet. When he was 13, he was employed as an errand boy by a local shirt store. A year later, his family moved to La Coruña, an industrial town in a remote corner of northwestern Spain, where his father found a new job. This relocation was a steppingstone in the destiny of the future billionaire. Here, the boy with his sister and brother joined a department store named La Maja. Making this landmark decision he entered the world of fashion.
When working at La Maja, he got to know kinds of textiles and types of embroidery. Besides, he learned basics of tailor's work. The new job triggered an idea of founding his own dressmaking business and apparel shop. So having set the goal, Amancio turned his mind to the dream. However, his dream came true almost 25 years later. In 1975, he managed to open the first Zara store which soon evolved into the giant chain of sleek stores. So, in about a decade, his flagship Zara chain expanded outside Spain to Portugal, the United States, and France. It was the start of his well-deserved triumph. But long years passed before he could enjoy the fruits of his labor.
In 1960s, Amancio was working as a manager at a store in the town where he lived. He realized that buyers of expensive clothes are not numerous. A brilliant idea captivated him. At once, he set his mind to implementing the idea as an experiment. He purchased inexpensive fabrics in Barcelona and set to make clothes using his own sewing patterns thus saving quite a lot of money. As a result, his tailor-made clothes were not worse in quality than those ones from high street stores. However, his main advantage was a friendly price. Clothes by Amancio Ortega were gaining in popularity among local retailers. This way he managed to earn a start-up capital and founded his own business.
In 1964, he and his first wife opened a clothing factory, Confecciones Goa, which manufactured mainly quilted bathrobes, nightdresses, and lingerie. Once, Amancio came across a collection of costly deluxe brand of lingerie. Being inspired by the idea he decided to copy the design. His plan was a success. Since then, it has become the linchpin of his philosophy. New looks in his stores are borrowed from the most recent runway shows.
The business got into gear. In 1975, a large order for lingerie was placed with his company. To fulfil this order Ortega had to invest all available funds. However, it was worthy of it. He spent the revenues from the deal opening the long-awaited apparel store to sell garments made at his own factories. He called it Zara.
In 1985, Amancio Ortega set up a parent company Industria de Diseño Textil (Inditex Group), to manage his growing suite of brands. Nowadays, Inditex is a vertical conglomerate comprising some 100 companies involved in textile design, production, and distribution. Besides, Inditex consists of over 3,000 stores in almost every country in the world. Ortega's retail industry is expanding with 300-500 new stores annually. Therefore, Zara has been generating massive profits for several decades.
The concept in the business philosophy is seamless logistics. So production, distribution, and sales are carried out without dealers thus lowering prices of any garment. That is why much more customers can afford clothes sold at the Zara chain compared to other well-known brands. In addition, success of Inditex Group is secured by instant response of designers to changes in fashion trends. Specialists are alert to the latest trends in vogue. So Ortega tweaks collections more frequently than his rivals.
Ortega sold 25% of his shares, thus Inditex went public in 2001. The IPO was a great success. The shares enjoyed so big demand that they immediately soared in value by 22%. The company's capitalization exceeded billions of dollars thus making Amancio Ortega one of the wealthiest among tycoons. Then his incomes were set for the exponential growth. His fellow countrymen nicknamed him Terminator.
During the 2008 crisis, Inditex managed not only to keep sales revenues. Surprisingly, revenues rose by 14%. Again, the gifted entrepreneur puzzled people with a secret of such a success.
In January 2011, Amancio Ortega announced his imminent retirement from Inditex. He handed over the chairman position to CEO Pablo Isla. Ortega kept his word. Since then, too little information has been known about him. He does not give interviews, does not visit high-profile events for the business elite, and does not make any statements. Once he rejected an invitation to a reception of Spain's royal family.
Being publicity-shy, Ortega is especially careful to keep his privacy. The information available to the media is that in 1986 he divorced his first wife Rosalía Mera who helped him at the very start of his career. Then, he married Flora Pérez Marcote. He has two sons with the first wife and a daughter with the second one. All three children and other relatives of the billionaire are stockholders in the large family corporation. However, Amancio's only daughter Martha is likely to inherit the fashion empire one day.