Former Chairman of the Federal Reserve Board of Governors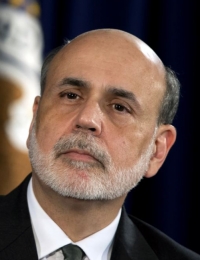 Ben Bernanke
Date of birth: 13.12.1953
Country: United States of America
Family status: married
Net worth: $1.9 mln
Primary activity: civil service
Interests: -
An American economist and a talented scientist of Jewish origin holding the office of Chairman of the United States Federal Reserve System Board of Governors since February 2006, also Chairman of the White House Council of Economic Advisers, nicknamed "Helicopter Ben". Earlier, in 2002-2005, an active FRS member and a professor of macroeconomics in major US universities for twenty years. Holds a Ph.D. degree, publishes numerous scientific papers.
On December 13, 1953, in Augusta, a small town in Georgia, US, Ben Shalom Bernanke, a future respected and powerful economist, was born to an orthodox Jewish family. His father, Philip Bernanke, worked as a pharmacist in a local drugstore, devoting his leisure hours to administrating a theater. Mother, Edna Bernanke, was an elementary school teacher.
In the 1950s the family had to move to Dillon, South Carolina, where his father became head of the family-owned pharmacy business.
Since he was a child, Ben demonstrated extraordinary mathematical abilities. At the age of three he was familiar with all the figures, could add and subtract quickly; he was also fluent in counting coins. The school curriculum came easy to him, so he became the best student and even got 1,590 out of 1,600 points in the final exam. The boy devoted free time to mathematical analysis that he took interest in.
In 1971 Ben graduated from school and entered the Harvard University Department of Foreign Languages, but soon his passion for mathematics and economics took over, though he remained a language lover ever after. In 1975 he graduated with a distinction and received a bachelor's degree in economics. He immediately got accepted into "Phi Beta Kappa", a prestigious Masonic fraternity. Bernanke decided to continue his education and entered the Massachusetts Institute of Technology. In 1979 he received a Ph.D. in economics. That was the beginning of his academic career. He gave lectures on economics at the Stanford Graduate School of Business until 1985. He then went on to become a professor at Woodrow Wilson School of Public and International Affairs, Princeton University, where he held the office of Dean for 6 years. Besides, Bernanke was invited to give lectures at the Massachusetts and New York universities on a regular basis.
The Princeton University laid the foundation of Bernanke's work on defining the Fed role in the Great Depression. The work was based on a theory of Milton Friedman, a Nobel Prize winner. Bernanke published numerous research papers on the mechanism, practice and work of central banks.
In the early 2000s he was already widely known among academic and business circles of America. He was considered an experienced analyst. This fact was confirmed by a great number of Bernanke's publications on pressing macroeconomic and monetary issues. As a matter of fact, in 2001 Bernanke was even offered the editor position at the American Economic Review.
It is worth noting that since the late 1980s he was often invited as an expert to federal reserve banks in various US cities.
In 2002 the White House decided to improve the quality of the Fed monetary expertise. Ben Bernanke became one of the seven Federal Reserve board members. The work turned out to be quite productive. For instance, he helped resolve the longstanding dispute between the board members on customers' personal data collection conducted by banks. Even though at times opinions might have differed, Ben managed to forge productive business relationships with his colleagues.
Bernanke gained his widest renown by a public report on monetary policy, in which he defined the degree of deflation threat. He claimed that the government can create inflation at any moment: all it takes is printing a sufficient amount of dollars. He also mentioned Milton Friedman's metaphor of a helicopter dropping money. That gave Bernanke his nickname, "Helicopter Ben".
Bernanke's career skyrocketed in summer 2005, a watershed period for him. First, he became Chair of the presidential Council of Economic Advisers. That stage of his career did not last very long. In a few months George W. Bush proposed him as a candidate for Chair of the Fed Board of Governors. The Senate approved him without hesitation. Since then, Bernanke has been an obvious leader in financial regulation. His recommendations are always greatly valued though often contrary to the commonly held opinion.
Bernanke is a good family man. He and his wife, Anna Bernanke, have two children.