Forex charts and quotes
| Currency pair | Bid | Ask |
| --- | --- | --- |
| EURUSD | 1.1693 | 1.1696 |
| GBPUSD | 1.2864 | 1.2867 |
| USDJPY | 110.18 | 110.21 |
| USDCHF | 0.9681 | 0.9684 |
| USDCAD | 1.2640 | 1.2643 |
| EURJPY | 128.85 | 128.88 |
| EURCHF | 1.1321 | 1.1324 |
| GBPJPY | 141.74 | 141.81 |
| GBPCHF | 1.2452 | 1.2459 |
| GOLD | 1284.95 | 1285.55 |
| SILVER | 17.030 | 17.070 |
| BTCUSD | 4429.35 | 4449.35 |
Wednesday, 16 August 2017
Thursday, 17 August 2017
| | |
| --- | --- |
| | EUR/JPY Intraday Technical Analysis |
| | |
| --- | --- |
| | GOLD Intraday Technical Analysis |
Forex Analysis: 19 Apr 2012, 07:55 UTC+00
GBP/CHF: Breaking out of Wedge Formations - Technical Analysis and Trading Recommendations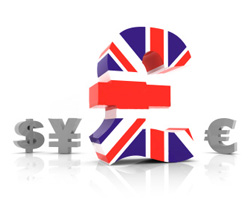 Technical Outlook:
GBP/CHF cleared medium term resistance at the 1.4620 level yesterday, and it is now threatening to break out of the Rising Wedge formations discussed earlier and shown on the chart setups below. Still considering the overall structure the prices are held up at a convergence of the resistance at 0.786 and at the upper boundary of the Wedge; it will require at least one more day to finish a clear breakout and turn bullish. Resistance is strong and positioned at 1.4790, at present it is still recommended to hold short positions opened earlier with 1.4790 as the line in the sand for the bulls to take over.
Show full picture
Chart Setups:
As seen from the above, the resistance 0.7860 of AB boundary (1.4790 to 1.4200) comes in around the area of 1.4670. Prices have just stalled around 1.4700, which defines the resistance zone. A bearish formation now (1-2 days) will re-enforce bears to resume once again and break through the channel line support coming at 1.4500. On the other hand, another day of rally can target at breaking the well placed resistance at 1.4790 at the moment and strengthen the bullish momentum.
Trading Recommendations: Issued Earlier
Sell at 1.4520/40, Stop at 1.4790, Target1 at 1.3950, Target2 at 1.3800.
Best regards,
Published:
19 Apr 2012, 07:55 UTC+00
Recommend: Forex Analytics

▶

USD/CHF profit target reached perfectly, prepare to buy on major support


17 Aug 2017, 05:57 UTC+00

Betrachtet heute

2211

▶

AUD/JPY testing major resistance, remain bearish


17 Aug 2017, 05:54 UTC+00

Betrachtet heute

2167

▶

USD/JPY dropping perfectly towards profit target, remain bearish while...


17 Aug 2017, 05:58 UTC+00

Betrachtet heute

2166

▶

AUD/USD approaching major resistance, prepare to sell


17 Aug 2017, 05:53 UTC+00

Betrachtet heute

2140

▶

EUR/JPY forming a nice reversal pattern, remain bearish


17 Aug 2017, 05:55 UTC+00

Betrachtet heute

2092
Analytik
Forex-Info
Markt von innen
Tools
Relax
Forex articles