Monday, 01 June 2020
Tuesday, 02 June 2020
The euro exchange rate
MT5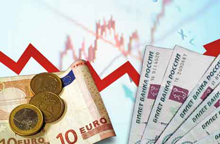 The euro (EUR) is the official currency of the eurozone, which includes Germany, Austria, France, Italy, Spain, Portugal, Ireland, Belgium, the Netherlands, Luxembourg, Malta, Slovakia, Slovenia, Finland, Greece, and Cyprus. The euro is also a currency unit in 9 countries 7 of which are situated in Europe.
Initially, the euro was planned to be the common currency for the European Economic Community. It was introduced in 1999 to replace the European Currency Unit ECU. Today, it is the world's reserve currency along with the US dollar. The European Union is one of the world's three most powerful economic forces. According to the latest data, the euro is one of the most traded currencies on Forex. It is used in more than 40% of all deals.
The main factors affecting the European currency rate are the following:
The eurozone macroeconomic indicators

Manufacturing production data

GDP data

Money supply

Consumer price index

International trading data

Employment data

Ifo data (Ifo Institute for Economic Research at the University of Munich)

The US dollar rate fluctuation
However, the European Central Bank has the most significant influence on the euro. The ECB implements and maintains the monetary policy in the European Union. It also executes foreign exchange transactions, keeps and manages the official foreign reserves of the member states. Thus, the announcements of the ECB's representatives have positive or negative impact on the euro. That is why, while trading the currencies paired with the euro, traders keep finger on the pulse of the news releases.
Analytics
Tools
Forex Info
Market Inside
Relax
Forex Articles