| | |
| --- | --- |
| | *Canadian Dollar Weakens Against Majors; Now At 1.2406 Against Euro |
| | |
| --- | --- |
| | Us Sec Chairman Mary Schapiro - - Knight Capital Event Raises "concerns for... |
News: 2012-08-03 18:14:00 UTC+00
Spain Pledge to Save 102 Bln Euros in Next Two Years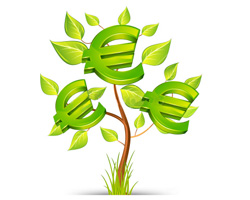 The Spanish govt had submitted its budget plan for 2013 and 2014 to European Commission, in which ita has pledged to save 102 bln euros
The Treasury said the plan unveiled on July 13 that included savings of 65 bln euros, but did not give further details and new savings figure.
Spain must cut its public deficit of 8.9 pct of GDP to 6.3 pct in 2012, 4.5 pct in 2013 and 2.8 pct the year after.
The govt based its forecast on expected GDP of 1.2 pct in 2014 after two consecutive years of recession, in which it expects the economy to contract by 1.5 pct in 2012 and by 0.5 pct in 2013.
Quotes
   "The 102 billion in savings to 2014 assumes all the measures that have been announced so far will be fully in place and also factors in the prevailing macroeconomic conditions."
Treasury spokeswoman 
Published: 2012-08-03 18:14:00 UTC+00 9 months, 2 weeks, 2 days, 8 hours, 41 min. ago
EUR/USD
GBP/USD
USD/JPY
GBP/JPY
EUR/CHF
AUD/USD