| | |
| --- | --- |
| | U.S. Monster Employment Index Continues To Rise |
| | |
| --- | --- |
| | *Europe July Monster Employment Index Up 2% On Year |
News: 2012-08-03 04:07:00 UTC+00
Moody's Downgrades Slovenia Ratings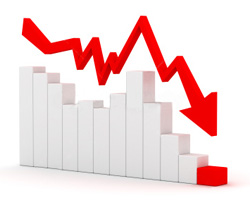 Moody's Investors Service on Thursday downgraded the credit ratings on Slovenia to Baa2 from A2 while maintaining the 'negative' outlook.
The decision to downgrade the ratings reflected Moody's view that the Slovenian banking system's need for further recapitalisation is increasing the risk of further contingent liabilities crystallising for the sovereign.
Additionally, the government's cost of funding is increasing and its market access is becoming more constrained.
The agency also noted that the economy's continued weakness and rising vulnerability to shocks given its reliance on trade and the weakness of the corporate sector, are exacerbating the government's fiscal challenges and efforts to stabilise its debt metrics.
Moody's said Slovenia's funding challenges and risks from the financial system remained substantial. The 'negative' outlook reflected the agency's view that the deteriorating macroeconomic environment is amplifying this risk and opens the possibility that external assistance may be required.
Published: 2012-08-03 04:07:00 UTC+00 9 months, 2 weeks, 4 days, 3 hours, 58 min. ago
EUR/USD
GBP/USD
USD/JPY
GBP/JPY
EUR/CHF
AUD/USD