| | |
| --- | --- |
| | Research: US Likely to Remain Safe Haven for Now |
| | |
| --- | --- |
| | Research: Eur/usd Downside Is a Drag on Em Fx |
News: 2012-06-20 09:44:00 UTC+00
Research: Choppy Performance Likely in Pro-Cyclical Em Assets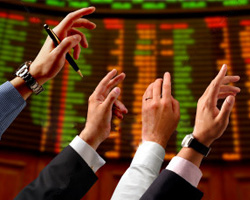 Quotes from Barclays Capital:
-EM asset markets are in a position similar to H2 11, sandwiched between a deteriorating growth and solvency outlook in Europe on one side, and an increasing probability of further developed market (DM) policy responses on the other. It is a juncture which is all too familiar and likely to be repeated.
-We expect the most pro-cyclical EM assets, including equities, currencies and high yielding credits, to remain very choppy. We only expect a sustained, positive trend in these assets when uncertainties in Europe ease and a conclusive low in EM activity is reached, which is unlikely in the next 1-2 months.
Published: 2012-06-20 09:44:00 UTC+00 11 months, 3 days, 11 hours, 16 min. ago
EUR/USD
GBP/USD
USD/JPY
GBP/JPY
EUR/CHF
AUD/USD