Forex charts and quotes
| Currency pair | Bid | Ask |
| --- | --- | --- |
| EURUSD | 1.1180 | 1.1183 |
| GBPUSD | 1.2803 | 1.2806 |
| USDJPY | 111.31 | 111.34 |
| USDCHF | 0.9739 | 0.9744 |
| USDCAD | 1.3447 | 1.3450 |
| EURJPY | 124.46 | 124.49 |
| EURCHF | 1.0891 | 1.0896 |
| GBPJPY | 142.54 | 142.61 |
| GBPCHF | 1.2465 | 1.2478 |
| GOLD | 1266.66 | 1267.26 |
| SILVER | 17.325 | 17.365 |
| BTCUSD | 2066.10 | 2071.10 |
Monday, 29 May 2017
Tuesday, 30 May 2017
| | |
| --- | --- |
| | Elliott wave analysis of EUR/NZD for January 11, 2017 |
| | |
| --- | --- |
| | Intraday technical levels and trading recommendations for EUR/USD for January... |
Forex Analysis: 11 Jan 2017, 05:21 UTC+00
Elliott wave analysis of EUR/JPY for January 11, 2017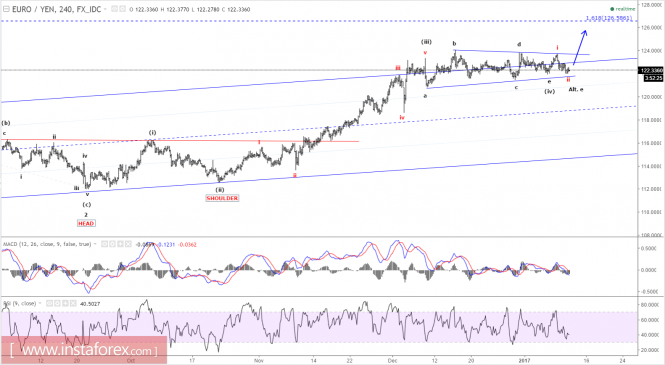 Show full picture
Wave summary:
The deep decline from 123.73 is worrisome, but as long as support at 122.00 is able to protect the downside, our preferred count will remain that the triangle consolidation will finish with the test of 122.00 on January 5 and red wave ii is very close to completion. That said, we need a break above minor resistance at 122.94 to confirm that red wave ii has completed and red wave iii to above 123.73 is unfolding for a continuation higher towards 124,86 and the long-term ideal target at 126.54.
Should support at 122.00 be broken, that would indicate that the triangle consolidation is still unfolding, but the potential downside should be very limited. Likely not lower than 121.88.
R3: 123.73
R2: 122.94
R1: 122.62
Pivot: 122.31
S1: 122,00
S2: 121.88
S3: 121.54
Trading recommendation:
We are long EUR from 123.13 with stop placed at 121.75. If you are not long EUR yet, then buy near 122.00 or upon a break above 122.94 and use the same stop at 121.75.
Published:
11 Jan 2017, 05:21 UTC+00
Recommend: Forex Analytics

▶

Daily analysis of Silver for May 26, 2017


26 May 2017, 17:55 UTC+00

Views today

3270

▶

Daily analysis of GBP/JPY for May 26, 2017


26 May 2017, 17:59 UTC+00

Views today

2828

▶

GBP/USD analysis for May 26, 2017


26 May 2017, 15:47 UTC+00

Views today

2685

▶

Daily analysis of Gold for May 26, 2017


26 May 2017, 17:57 UTC+00

Views today

2568

▶

NZD/USD Intraday technical levels and trading recommendations for May 26, 2017


26 May 2017, 11:26 UTC+00

Views today

2541
Analytics
Forex Info
Market Inside
Tools
Relax
Forex articles