| | |
| --- | --- |
| | GBP/USD: Intraday Forecast for August 9, 2012 |
| | |
| --- | --- |
| | EUR/USD Sell Below 1.2395 - August 08, 2012 (Daily Strategy) |
News: 2012-08-08 15:07:51 UTC+00 9 months, 1 week, 6 days, 17 hours, 22 min. ago
AUD/USD Bearish Outlook for August 08, 2012 (Daily Strategy)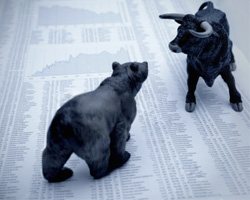 The Australian dollar remains firm, and may continue rising to 1.0610 fractal daily and weekly resistance near 1.0620. Closing above these levels will increase the probability of a new rally to the 1.0820 level. On the other hand, most operators consider an upcoming correction for this pair and this could be the case soon, so we recommend selling on the level of 1.06 or we can sell only if the pair closes below 1.0547 weekly pivot. Target to 1.0380.
Both MACD indicators and trend are showing overbought position and an imminent bearish correction.
If you need a personal consultation, contact me via e-mail: gerardo.porras@analytics.instaforex.com
If you like my Fundamental analysis, please vote for me, but first you must register at the portal MT5 for a vote to be valid. Thanks.
Gerardo Porras Palomino is taking part in the "Analyst of the Year" award organized by MT5.com portal. If you like his article, please vote for him.
Performed by
Analytical expert: Gerardo Porras Palomino
InstaForex Group © 2007-2013
Published:
2012-08-08 15:07:51 UTC+00 9 months, 1 week, 6 days, 17 hours, 22 min. ago
Recommend: Forex Analytics

▶

USD/JPY intraday technical levels for May 22, 2013


2013-05-22 07:22:10 UTC+00 19 hours, 8 min. ago

Views today

757

▶

EUR/USD. Forecast for May 22, 2013


2013-05-22 08:36:56 UTC+00 17 hours, 53 min. ago

Views today

729

▶

GBP/USD. Forecast for May 22, 2013


2013-05-22 09:13:02 UTC+00 17 hours, 17 min. ago

Views today

784

▶

Elliott Wave analysis of EUR/NZD for May 22, 2013


2013-05-22 07:27:03 UTC+00 19 hours, 3 min. ago

Views today

680

▶

EUR/USD intraday technical levels for May 22, 2013


2013-05-22 07:21:02 UTC+00 19 hours, 9 min. ago

Views today

717