| | |
| --- | --- |
| | GBP/USD - Weekly and Monthly Pivot Points for July 9 - 13, 2012 |
| | |
| --- | --- |
| | AUD/USD - Weekly and Monthly Pivot Points for July 9 - 13, 2012 |
News: 2012-07-09 15:24:59 UTC+00 10 months, 1 week, 2 days, 14 hours, 21 min. ago
EUR/USD - Weekly and Monthly Pivot Points for July 9 - 13, 2012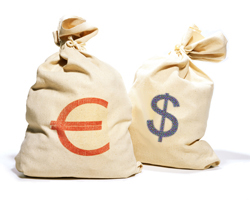 The pivot point itself (PV) is the support / resistance primary. This means that major share price movements are marked by this level. Support and resistance can also generate more interesting movements around them.
The pivot points can be used for two purposes: either to identify the prevailing trend in the market or to denote market entry and exit points.
1) If the price set by the pivot point is broken in an upward motion, the market is bullish and, conversely, if the pivot point is broken in a downward motion, the market is bearish.
2) They can provide points of market entry and exit that can be quite useful for trading strategy. For example, a limit sell order can be placed on a level support for open if this support is broken and can put the stop loss for this order in one of the resistances.

Signal For 09 - 13 July

Sell Short 1.2425 with Take Profit at 1.2137 and with Stop Loss at 1.2500.

____WEEKLY_____
Weekly - R3 = 1.2977
Weekly - R2 = 1.2828
Weekly - R1 = 1.2557
Weekly Pivot = 1.2408
Weekly - S1 = 1.2137
Weekly - S2 = 1.1988
Weekly - S3 = 1.1717
Show full picture
____MONTHLY______
Monthly - R3 = 1.3301
Monthly - R2 = 1.3023
Monthly - R1 = 1.2842
Monthly Pivot = 1.2564
Monthly - S1 = 1.2383
Monthly - S2 = 1.2105
Monthly - S3 = 1.1924
Show full picture
If you would like to get this indicator, feel free to adress me via e-mail: gerardo.porras@analytics.instaforex.com
If you like my technical analysis, please vote for me by clicking here!
Gerardo Porras Palomino is taking part in the "Analyst of the Year" award organized by MT5.com portal. If you like his article, please vote for him.
Performed by
Analytical expert: Gerardo Porras Palomino
InstaForex Group © 2007-2013
Published:
2012-07-09 15:24:59 UTC+00 10 months, 1 week, 2 days, 14 hours, 21 min. ago
Recommend: Forex Analytics

▶

GBP/USD. Forecast for May 17, 2013


2013-05-17 08:21:56 UTC+00 2 days, 1 hour, 24 min. ago

Views today

939

▶

USD/JPY intraday technical levels for May 16, 2013


2013-05-17 05:53:41 UTC+00 2 days, 3 hours, 53 min. ago

Views today

853

▶

EUR/USD. Forecast for May 17, 2013


2013-05-17 09:33:12 UTC+00 2 days, 13 min. ago

Views today

889

▶

EUR/USD analysis for May 17, 2013


2013-05-17 10:40:59 UTC+00 1 day, 23 hours, 5 min. ago

Views today

762

▶

EUR/USD - Sell bellow fractal 1.2879 - daily strategy for May 17, 2013


2013-05-17 14:17:27 UTC+00 1 day, 19 hours, 29 min. ago

Views today

807