| | |
| --- | --- |
| | EurJpy Bounces Just Shy Of 94.10 |
| | |
| --- | --- |
| | GBP/USD - Weekly and Monthly Pivot Points for July 23 - 27, 2012 |
News: 2012-07-23 14:18:22 UTC+00 9 months, 4 weeks, 3 hours, 22 min. ago
EUR/USD - Weekly and Monthly Pivot Points for July 23 - 27, 2012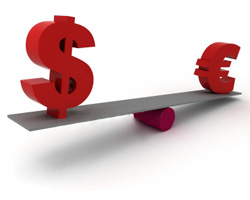 The pivot point is used as both support and resistance point at the same time; it is the first level that we observe. For this week the pivot points (weekly and monthly) for EUR/USD are: 1.2208 weekly; 1.2564 monthly.
The euro is located near the pivot weekly and bellow the Moving Average of 200 periods.
Accordingly, the pivot points signify the following:
1) If the price set by the pivot point is broken in an upward motion, the market is bullish and, conversely, if the pivot point is broken in a downward motion, the market is bearish.
2) They can provide points of market entry and exit that can be quite useful for trading strategy. For example, a limit sell order can be placed on a level support for open if this support is broken and can put the stop loss for this order in one of the resistances.
Signal For 23 - 27 July
Buy long 1.2070 with Take Profit at 1.2410 and with the Stop Loss at 1.2100 or Sell Short 1.240 with Take Profit at 1.2150.
____WEEKLY_____
Weekly - R3 = 1.2454
Weekly - R2 = 1.2388
Weekly - R1 = 1.2274
Weekly Pivot = 1.2208
Weekly - S1 = 1.2094
Weekly - S2 = 1.2028
Weekly - S3 = 1.1914
If you would like to get this indicator, feel free to adress me via e-mail: gerardo.porras@analytics.instaforex.com
If you like my technical analysis, please vote for me, here are instructions
Show full picture
____MONTHLY______
Monthly - R3 = 1.3301
Monthly - R2 = 1.3023
Monthly - R1 = 1.2842
Monthly Pivot = 1.2564
Monthly - S1 = 1.2383
Monthly - S2 = 1.2105
Monthly - S3 = 1.1924
Show full picture
Gerardo Porras Palomino is taking part in the "Analyst of the Year" award organized by MT5.com portal. If you like his article, please vote for him.
Performed by
Analytical expert: Gerardo Porras Palomino
InstaForex Group © 2007-2013
Published:
2012-07-23 14:18:22 UTC+00 9 months, 4 weeks, 3 hours, 22 min. ago
Recommend: Forex Analytics

▶

EUR/USD. Forecast for May 21, 2013


2013-05-21 09:34:10 UTC+00 2 hours, 6 min. ago

Betrachtet heute

641

▶

GBP/USD intraday technical analysis for May 21, 2013


2013-05-21 06:00:09 UTC+00 5 hours, 40 min. ago

Betrachtet heute

628

▶

Daily trading forecasts for May 21, 2013


2013-05-21 05:47:19 UTC+00 5 hours, 53 min. ago

Betrachtet heute

694

▶

EUR/USD daily analysis for May 21, 2013


2013-05-21 05:55:24 UTC+00 5 hours, 45 min. ago

Betrachtet heute

601

▶

EUR/USD intraday technical levels for May 21, 2013


2013-05-21 07:15:52 UTC+00 4 hours, 24 min. ago

Betrachtet heute

648